Missing Teeth - Attleboro Falls, MA
Dental Implants Replace Missing Teeth
If you're missing teeth, you might also be missing out on a lot more: The ability to speak without embarrassment. To eat your favorite foods. To smile without a thought about how your teeth look. Your jawbone needs the stimulation that tooth roots provide through chewing to remain healthy. Without it, the bone beneath your lost teeth can begin to deteriorate. Untreated, this can lead to a domino effect of tooth and bone loss. PremierOne Implant Centers can help you avoid these complications. We're the place to regain your missing teeth in Attleboro, MA—with dental implants.
 Using a combination of well-practiced skill and advanced technology, our team can prepare you to enjoy life fully again. With durable, lifelike dental implants—which are built to last for many years—you don't have to miss out on anything ever again.
Complications from Missing Teeth
Your Customized Treatment Plan
As mentioned above, we use advanced technology to provide you with dental implants. It's what helps us consistently deliver exceptional results. Our low-radiation cone beam CT scanner gives us clear 3D images that allow us—and you—to see exactly what's going on beneath your teeth and gums. If you have teeth or areas of jawbone that are likely to succumb to decay, we can see it and address them. With the information we gather, we'll customize a dental implant treatment plan for you. This may include anything from a single dental implant to full mouth dental implants.
We use implants manufactured by BioHorizons®, an industry-leading company synonymous with quality products. When our dentist inserts these into your jaw to replace your lost tooth roots, he uses a customized guide that's made specifically for you. This enables our team to place implants in precisely the right location and at the optimal angle for lasting performance, fit, and comfort. If you're already suffering from jawbone loss, we can rebuild its strength and mass prior to placement with bone grafting. We'll prepare you for a renewed smile and a higher quality of life.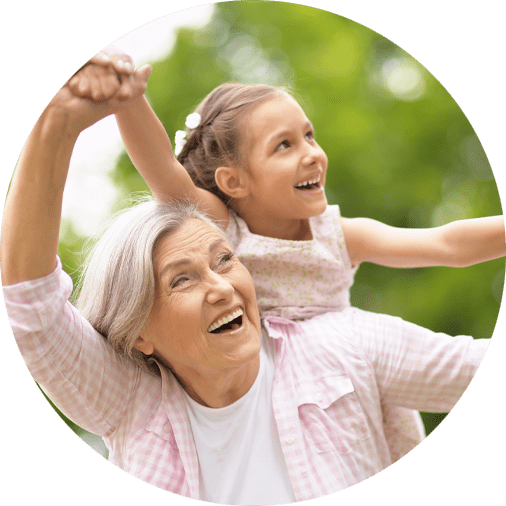 Life's Better with All Your Teeth!
Enjoy it fully again with dental implants.